2015 North Face Endurance Challenge 50k
Race Report
It started with a 4:15 am wake up alarm.  My neighbor, Jesse, an ex-Marine 10 years my junior, was picking me up at 4:45. I had everything laid out the night before so it was just a matter of getting dressed, making breakfast, which was a cup of coffee, English muffin with peanut butter and half a banana. The ride to shuttle parking was uneventful.
The shuttles (yellow school buses) were ready and waiting.  It was a 10 minute ride to the park and a 300 meter walk to the event area.  Here's a short video of the event area.
This is Jesse and me before the race.  Oh, how confident we look.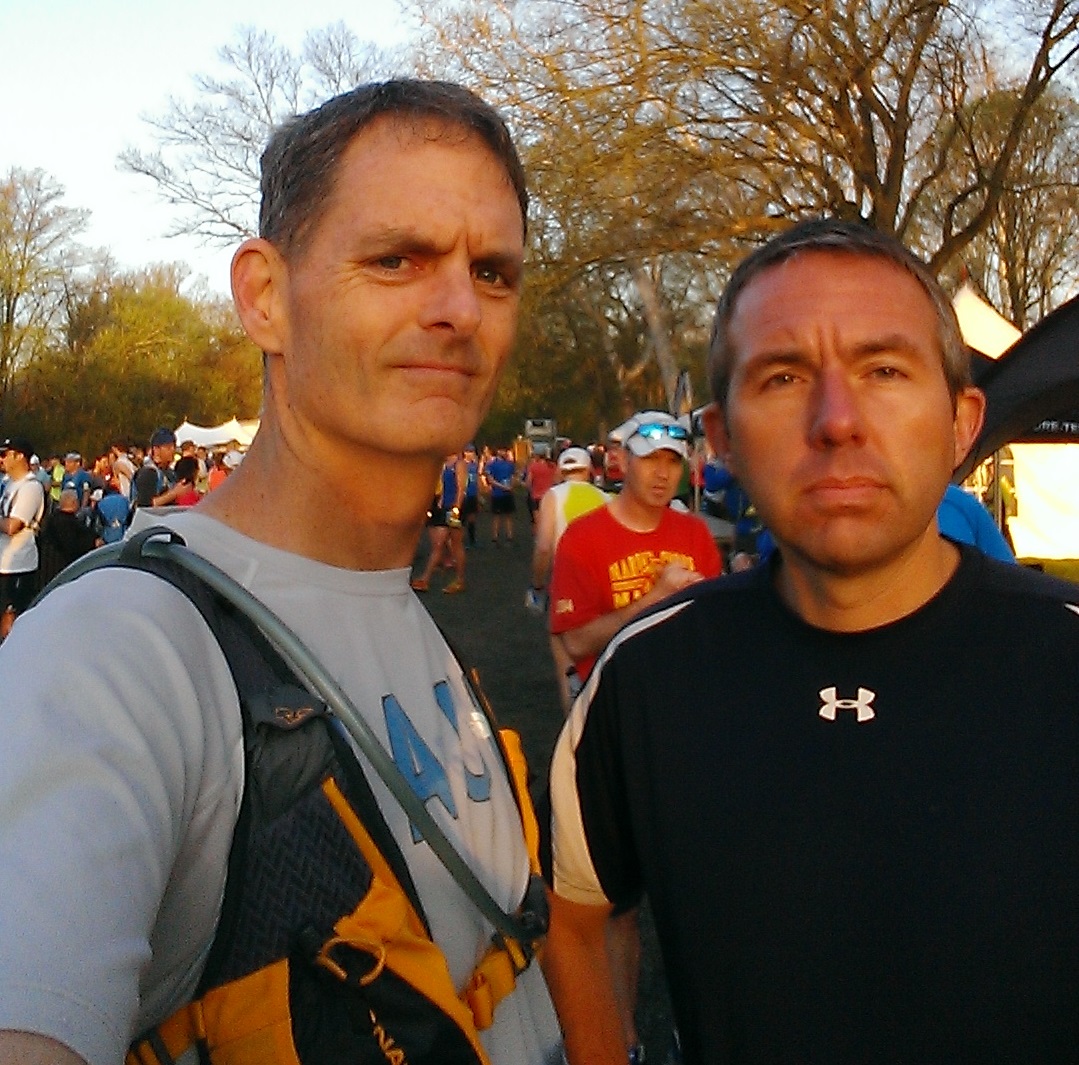 So on to the race.  It was frickin' hard!   At the start, I was excited, scared and pumped up.  I kept my pace to 10:00 minute miles even though my body wanted to do more.  
The trail was impeccably marked, I had been nervous of getting lost. But there wasn't one time during the race that I couldn't see a marker ribbon or flag. And there were very few times when I was running and not able to see people ahead of me.  They even had red "Wrong Way" signs at several points off the course in case you missed a turn. Thankfully, I did not miss any turns.
The first six miles were a piece of cake.  We got to the hills and even then I was feeling great and thinking 'these hills aren't so bad'.  
At the half marathon mark we entered Great Falls Park to do a 8.5 mile loop before heading back the way we came.  There was a huge aid station and tons of spectators at this point.  With everyone cheering and clapping, after 13 miles of quite trails, I felt like a rock star coming into that area.
All of the aid stations were amazing, they had water, coke, mountain dew, and electrolyte drinks. They had food, like skittles, pretzels, potato chips, and bananas. And they had tons of volunteers at every stop including two or three paramedics looking hard at each person and asking them questions if they looked "iffy". The guy with the drinks would fill up your hydration pack with whatever you wanted, they didn't skimp at all. They were all so nice and encouraging, it was probably the best part, getting to those stations.
The park is beautiful and the views of the river were awesome, but the hills on that loop were everywhere. After 14 or 15 miles they were downright brutal.  
At around mile 17, I started to get terrible calf cramps, I stopped to stretch them out but I knew this was only the beginning. After another mile or two I was going up one rather painful hill and ended up walking next to a guy named Jeremy, 31 year old ex-Air Force network admin and part-time personal trainer. We got to talking and became instant misery friends.  We stuck together to whole rest of the race. 
I knew the cramps were related to either dehydration or an electrolyte imbalance and to fight it off I was constantly drinking from my pack, eating GUs, and taking Electrolyte pills.  But it just wasn't enough.  The cramps spread to my hamstrings and groin (abductors) forcing me to stop more often to do stretches and then walk it off. Jeremy was dealing with IT band pain. I think he was worse off than me but damn if he didn't push on.
We walked/jogged the rest of the way.  Each of us encouraging and pushing the other to jog "just one more time". The last 6 miles was pretty much a fast walk, or Death March as I described it at the time. We would give running a try and that would last about a tenth of a mile.  If it hadn't hurt so much it would have been comical.  I was able to gather enough strength to run across the finish line and at least look like I knew what I was doing. The finish line was packed with people cheering and really pumped me back up.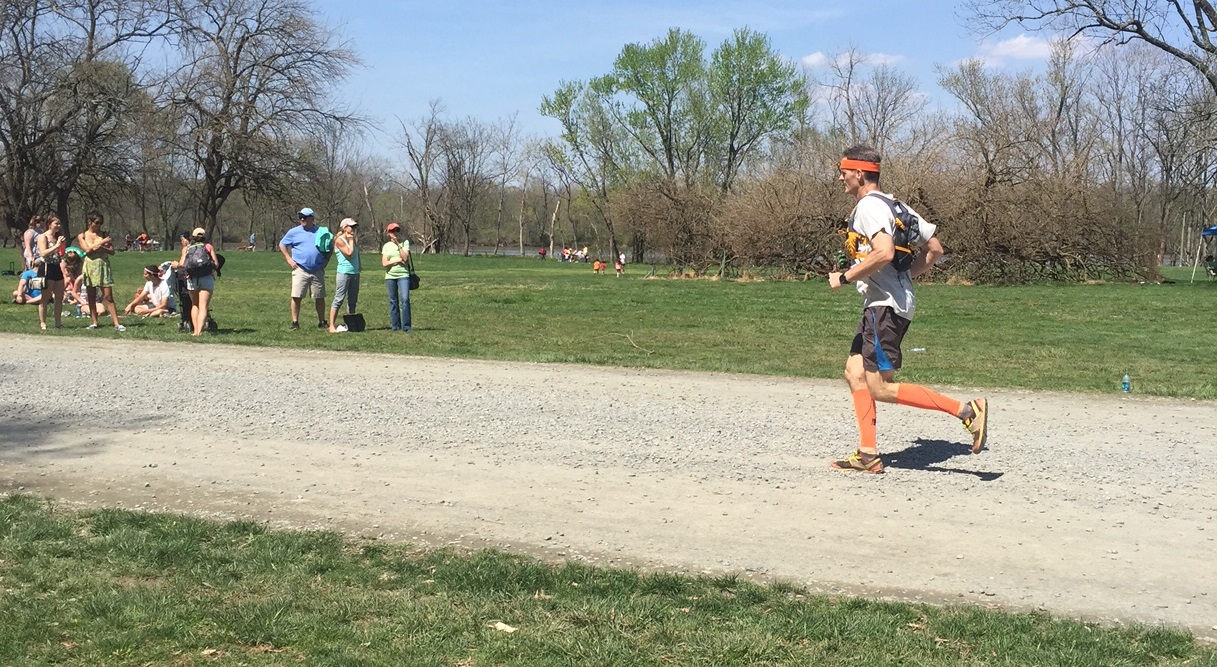 It felt so good to finish, I was near tears when my wife, Tammy ran up and hugged me.  She knew the time I was shooting for and knew that I must have had a difficult time to come in an hour later then planned.  
This is me moments after crossing the finish line.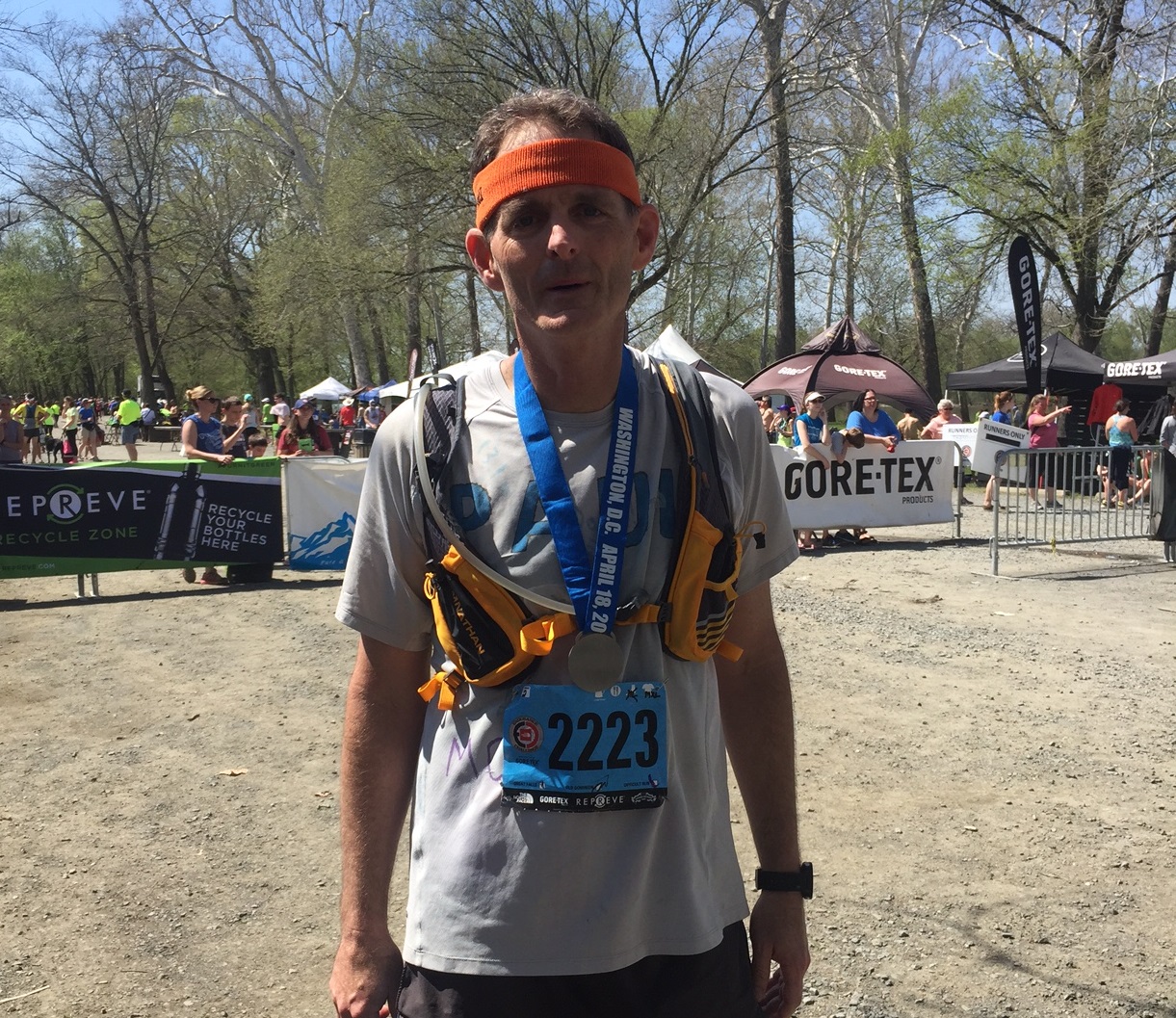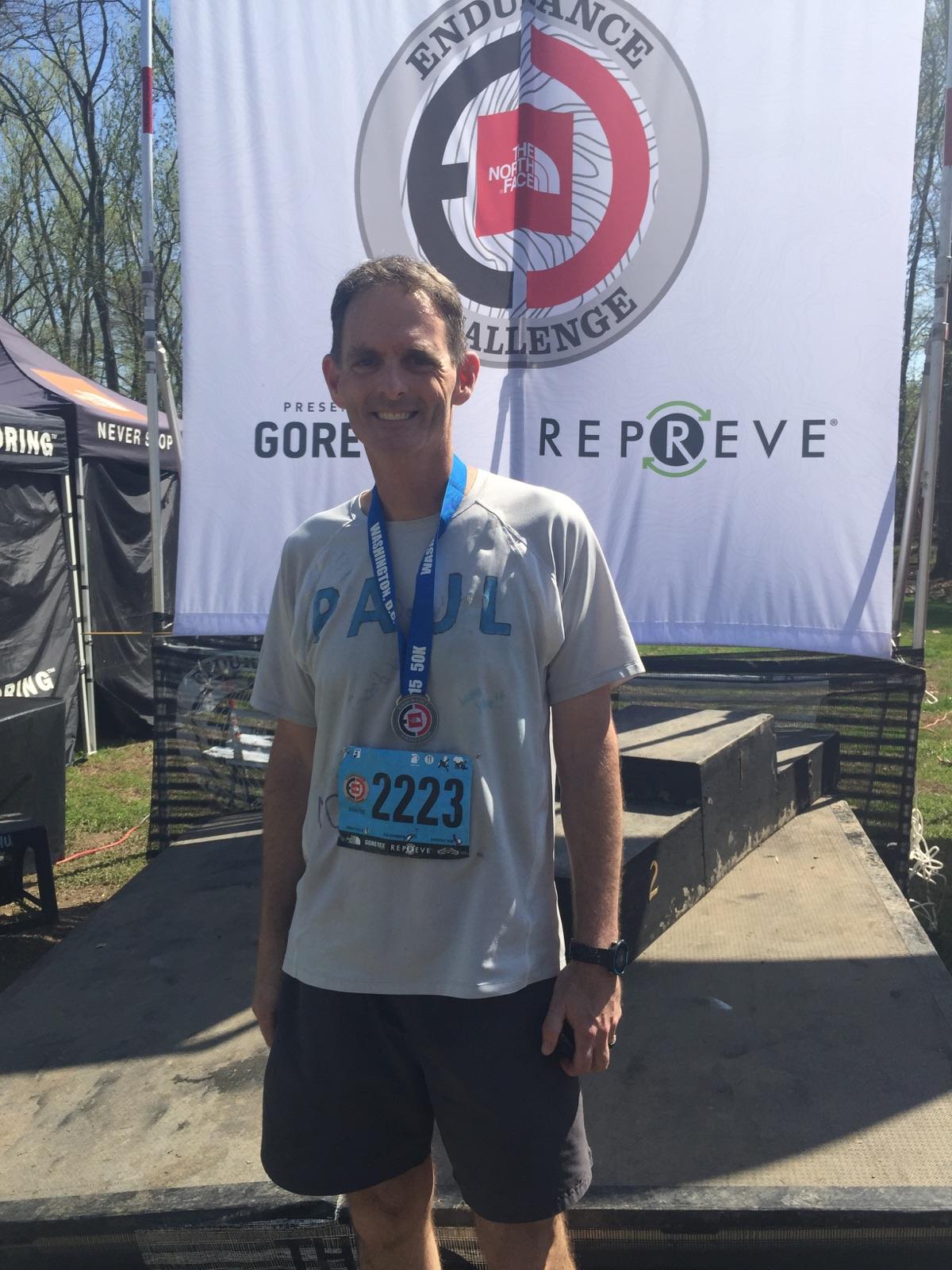 I finished in 7:28, well ahead of the cutoff time, but not as good as I wanted. Oh well.  The important part was that I beat my neighbor, Jesse. Haha.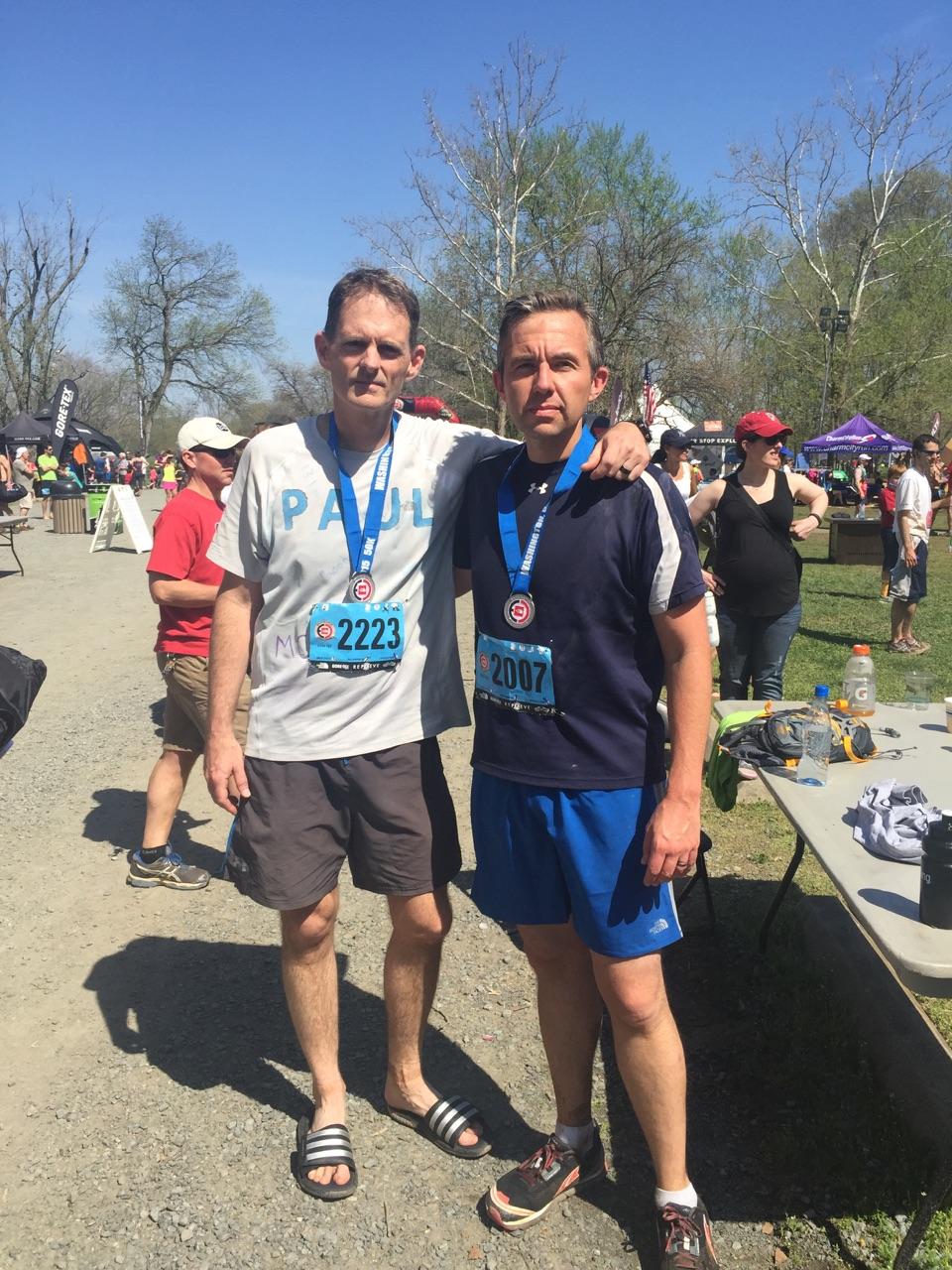 My kids made me a finish line sign with some greatly appreciated treats attached.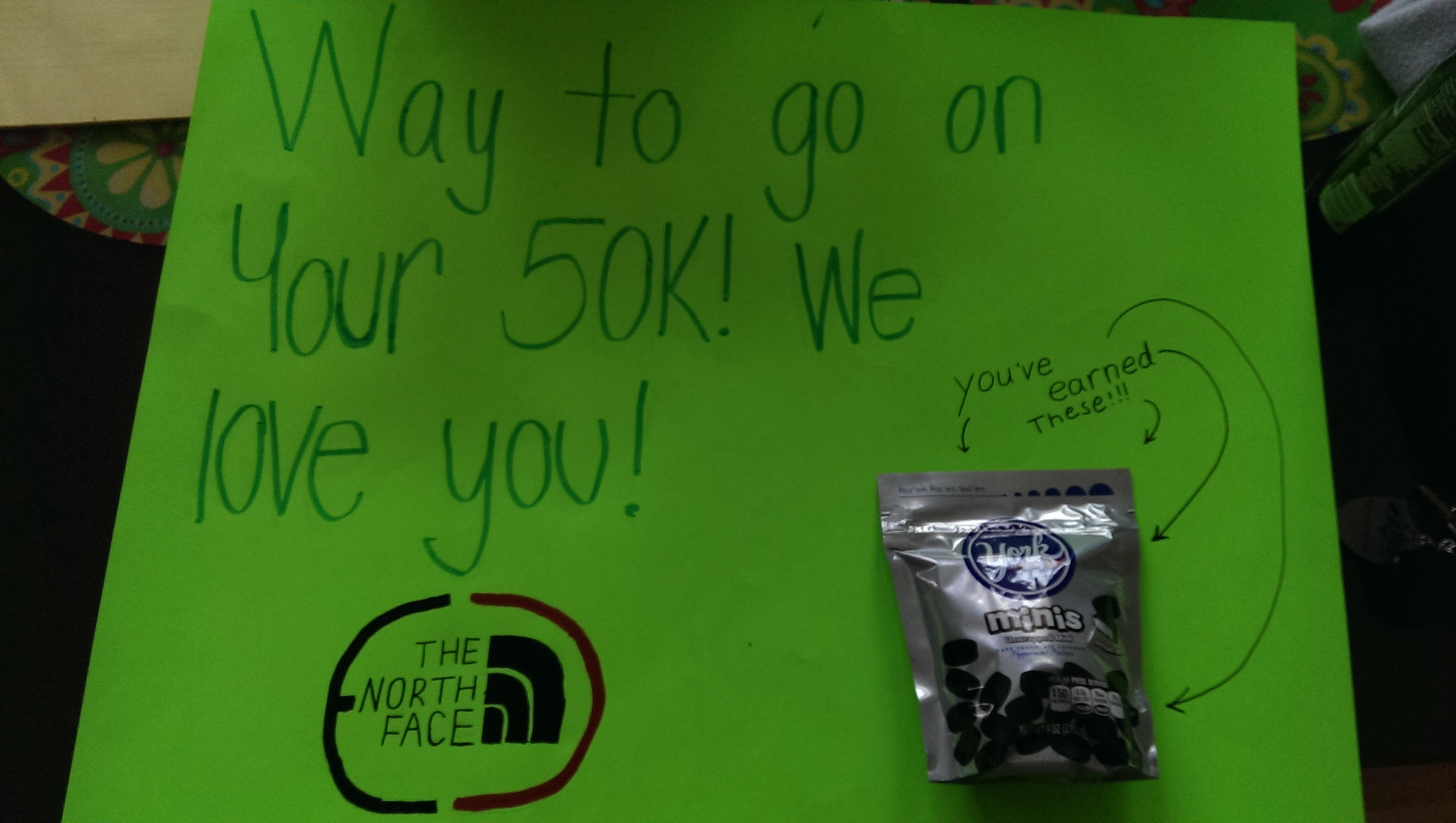 After the race I met Dean Karnazes, author of Ultramarathon Man (among other books).  He ran the 50 miler but fell and bruised a rib on a stump. He took it easy and finished mid-pack.  He was mainly there for his Karno Kids Foundation and the No Child Left Inside charity.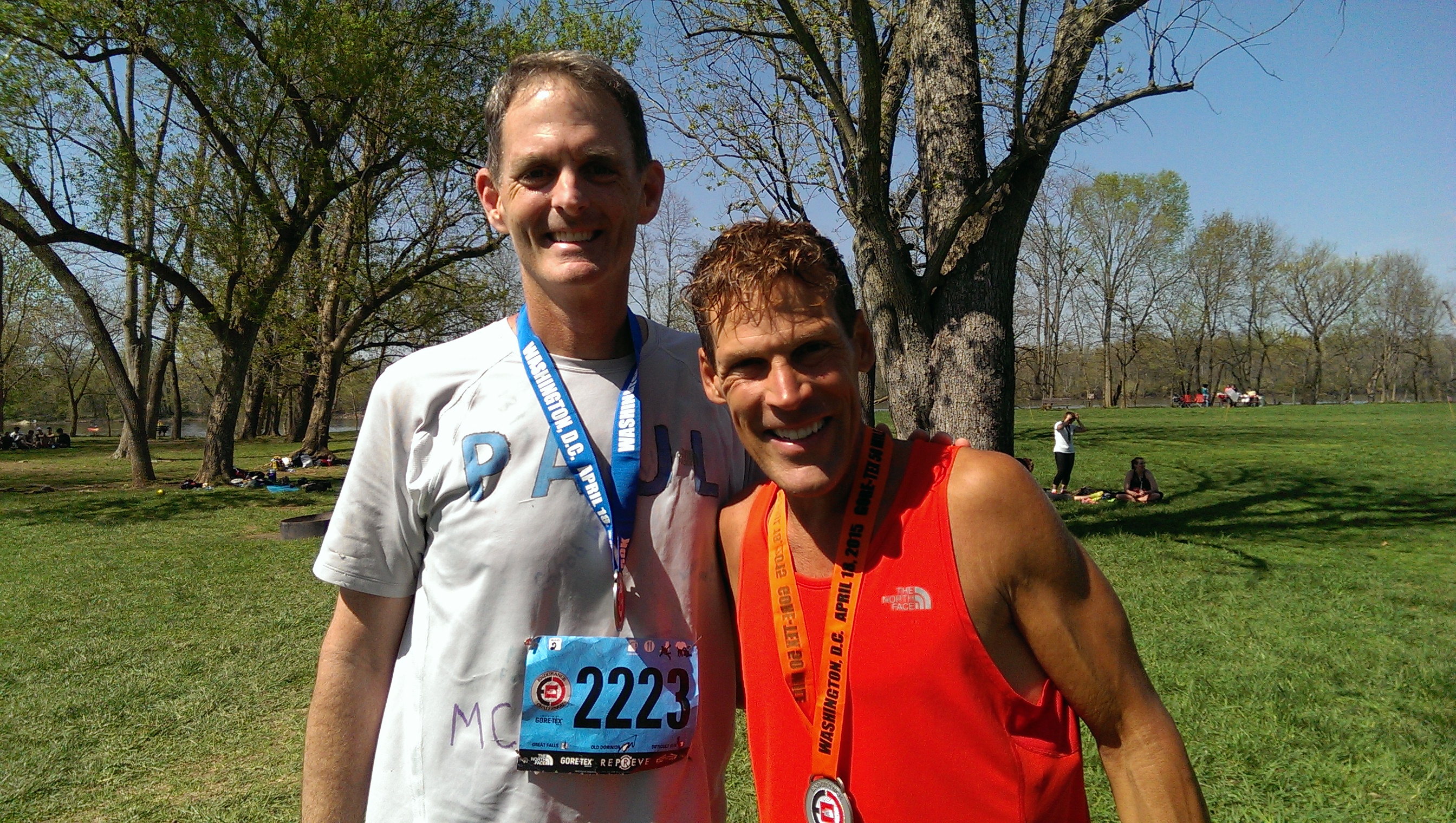 All in all it was a fantastic event and I'm glad I did it.  My wife hopes that this ultra stuff is now all out of my system, but I'm not sure just yet. Perhaps when the memory of the pain fades I'll consider another shot at it.